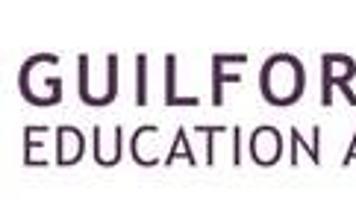 Guilford County – The Truist Foundation recently donated $50,000 to Guilford Education Alliance (GEA) to purchase laptops for Guilford County Schools (GCS) students.
Approximately 66% of GCS students live in low-income households and often don't have adequate access to technology. The existing technology gap became an emergency when schools turned to remote learning in March 2020 due to the pandemic.
On August 17, the GCS 2020-2021 school year started with remote instruction for the first nine weeks, and GCS estimated that about 5,000 GCS students still needed a device. The district has ordered more than 79,000 new devices, nearly enough for every student, teacher and instructional support staff member. GCS estimates they will still need an additional 3,900 laptops to truly become a one-to-one district.
GEA Executive Director Winston McGregor says the Truist Foundation donation comes at exactly the right time. "We don't want any students left behind during this crisis," said McGregor. "GCS needed the community's help in meeting student needs, and the Truist Foundation quickly responded with incredible generosity." McGregor says the gift enabled GEA to purchase approximately 625 laptops for students.
"On behalf of the Truist Foundation, we're proud to support GEA's efforts to ensure students in Guildford County Schools are equipped with laptops to participate in remote learning," said Cantey Alexander, Triad regional president at Truist. "Helping to close the digital divide so all children can learn, grow and thrive during the pandemic and beyond is one way we're fulfilling the Truist purpose to inspire and build better lives and communities."
About GEA
GEA is an ever-growing alliance of individuals, organizations and businesses who donate time, talent and resources to make sure the future is bright for Guilford County Schools students and for our community. www.GEANC.org
About Truist Foundation
The Truist Foundation is committed to Truist Financial Corporation's (NYSE: TFC) purpose to inspire and build better lives and communities. Established in 2020, the foundation makes strategic investments in nonprofit organizations to help ensure the communities it serves have more opportunities for a better quality of life. The Truist Foundation's grants and activities focus on leadership development, economic mobility, thriving communities and educational equity. Learn more at truist.com/truist-foundation.
Source: yesweekly.com