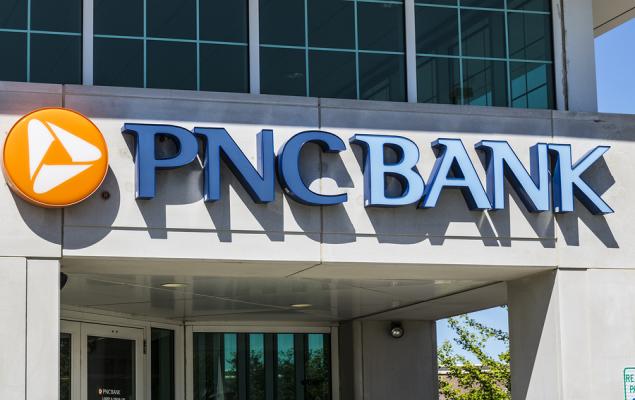 PNC Financial (PNC – Free Report) reported first-quarter 2020 earnings per share of $1.95, surpassing the Zacks Consensus Estimate of $1.38 amid coronavirus concerns. The bottom line, however, reflects a 25.3% decline from the prior-year quarter's reported figure.
Higher revenues, driven by higher net interest income and escalating fee income, aided the company's results. Further, expenses declined. However, the rise in provisions was a headwind. Moreover, a lower net interest margin was another concern.
Notably, provisions were calculated under the Current Expected Credit Loss (CECL) accounting standard effective Jan 1, 2020, and increased $693 million sequentially to give effect to the economic impact of coronavirus and loan growth.
The company's net income for the reported quarter came in at $915 million compared with the year-ago quarter's $1.27 billion.
Segment-wise, quarterly net income in Corporate & Institutional Banking and Retail banking plunged 33% and 23.9%, year on year, respectively. Further, the Other, including the BlackRock segment, reported a 29.3% fall in net income, while the Asset Management Group segment registered a 20% increase.
Revenues Climb, Costs Decline
Total revenues for the reported quarter came in at $4.5 billion, climbing 5% year over year. Additionally, the top-line figure surpassed the Zacks Consensus Estimate of $4.4 billion.
Net interest income inched up 1% from the year-ago quarter to $2.5 billion. Increased loan and securities balances and lower rates on borrowing and deposits were mostly mitigated by reduced loan, other earnings assets and securities yields, along with one additional day in the quarter. However, the net interest margin contracted 14 basis points to 2.84% due to lower yields on earning assets, partially muted by lower funding costs.
Non-interest income was up 11% year over year to $2 billion, owing to higher consumer and corporate services income, residential mortgage and other income. This was partially muted by lower asset management income.
PNC Financial's non-interest expenses totaled $2.5 billion, down 1% from the year-ago figure. This decline primarily resulted from the fall in personnel, marketing and occupancy costs, partly negated by higher equipment and other costs.
As of Mar 31, 2020, total loans were up 10% sequentially to $264.6 billion. Also, total deposits improved 6% to $305.2 billion.
Credit Quality: A Mixed Bag
Credit metrics were mixed in the first quarter. Non-performing assets were down 2% to $1.76 billion, year over year. Net charge-offs surged 56% to $212 million.
Allowance for credit losses was up 47% to $3.9 billion. Provision for credit losses escalated significantly from the year-earlier quarter to $914 million.
Steady Capital Position
As of Mar 31, 2020, the Basel III common equity Tier 1 capital ratio was 9.4% compared with 9.8% as of Mar 31, 2019.
Share Repurchase
During the January-March period, the company repurchased 10.1 million common shares for $1.4 billion. Furthermore, dividends of $0.5 billion were distributed. Notably, the company has temporarily suspended share buybacks through the second quarter of 2020, following the "unprecedented challenge" from the coronavirus pandemic.
Our Viewpoint
PNC Financial displayed an impressive performance during the March-end quarter. An improving lending scenario is likely to support its top line in the upcoming period. Further, the company is well poised to grow on the back of its diverse revenue mix. It remains on track to execute its strategic goals, including technology initiatives, which bodes well for the long term. Also, controlled expenses are a tailwind.
A rise in provisions due to deterioration in the macro-economic backdrop, nevertheless, is a concern. In addition, a lower net interest margin is another headwind.

Currently, PNC Financial carries a Zacks Rank #5 (Strong Sell).
You can see the complete list of today's Zacks #1 Rank (Strong Buy) stocks here.
Performance of Other Major Banks
JPMorgan's (JPM – Free Report) first-quarter 2020 earnings came in at 78 cents per share, which missed the Zacks Consensus Estimate of $1.70, thanks to a substantial rise in provisions due to the coronavirus-related concerns. The dismal performance resulted from provision builds due to deterioration in the macro-economic backdrop, losses related to funding spread widening on derivatives and bridge book markdowns. Excluding these, earnings per share amounted to $2.89.
Wells Fargo (WFC – Free Report) reported first-quarter earnings of 1 cent per share, including a reserve build of $3.1 billion and certain other items amid coronavirus scare. The Zacks Consensus Estimate for the same was pegged at 22 cents.
Results included reserve build and an impairment of securities impact of 73 cents, resulting from the economic and market conditions, along with an impact of 6 cents per share from the redemption of Series K Preferred Stock. The prior-year quarter's earnings were $1.20 per share.
Reduced net interest income on lower rates and a disappointing fee income thwarted the company's results. Notably, lower mortgage banking revenues and reduced gains on trading activities were major drags. Provisions also soared on the coronavirus crisis during the reported quarter. Nevertheless, lower non-interest expenses acted as a tailwind. In addition, escalation in loans and deposits reflected a strong capital position.
Among other major banks, KeyCorp (KEY – Free Report) will report quarterly numbers on Apr 16.
Today's Best Stocks from Zacks
Would you like to see the updated picks from our best market-beating strategies? From 2017 through 2019, while the S&P 500 gained and impressive +53.6%, five of our strategies returned +65.8%, +97.1%, +118.0%, +175.7% and even +186.7%.
This outperformance has not just been a recent phenomenon. From 2000 – 2019, while the S&P averaged +6.0% per year, our top strategies averaged up to +54.7% per year.
See their latest picks free >>
Source: zacks.com