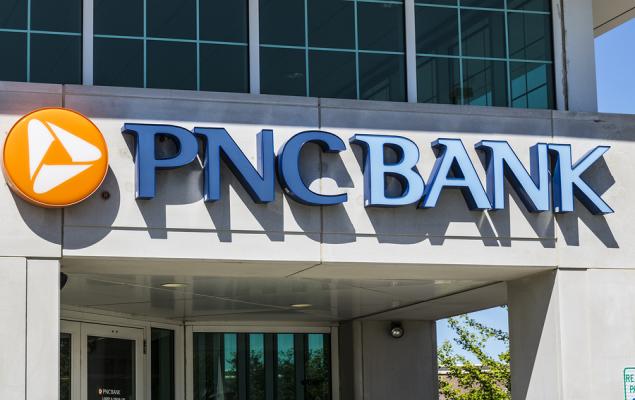 PNC Financial (PNC – Free Report) is scheduled to report first-quarter 2020 earnings, before the opening bell, on Apr 15. The bank's earnings are likely to have witnessed a year-over-year decline, while sales might display improvement.
In the last reported quarter, the company's earnings surpassed the Zacks Consensus Estimate. A rise in revenues, driven by higher net interest income and escalating fee income, aided the results. However, higher costs and provisions were headwinds.
Notably, PNC Financial has an impressive earnings surprise history. It surpassed the consensus estimate in each of the trailing four quarters, the average positive surprise being 2.3%.
Nonetheless, the company's activities in the to-be-reported quarter were inadequate to win analysts' confidence. As a result, its Zacks Consensus Estimate for earnings of $2.30 has moved down 2.1% in the past seven days. Moreover, the figure indicates an 11.9% decline from the year-ago reported figure. The Zacks Consensus Estimate for sales is projected at $4.4 billion, up 2% year over year.

Now let's discuss the factors that are likely to have impacted the company's first-quarter results:
Muted Net Interest Income Growth: The Fed slashed interest rates to near zero this March, in order to shield the U.S. economy from the coronavirus-related mayhem. This is likely to have substantially hurt net interest margin and net interest income. However, low deposit costs might have been an offsetting factor for margins.
Per the Fed's latest data, the loan balance is likely to have been high on a sequential basis for the first quarter, supported by rise in commercial and industrial (C&I), real estate and consumer loans in the first two months of the quarter. However, a marginal decline in demand for consumer loans in March due to the virus outbreak and soft demand for corporate loans as an uncertain economic environment resulted in lower business activities, leading to a decline in new investments, might have played spoilsport.
Therefore, a soft lending scenario is predicted to have curtailed growth in net interest income to some extent. However, the Zacks Consensus Estimate for average interest earning assets of $358.9 billion for the quarter indicates marginal sequential improvement.
Notably, management expects average loans to rise 1% on a sequential basis in the first quarter and NII to decline 1%, reflecting one lesser day in the quarter.
Dismal Non-Interest Revenues: Due to the pandemic, a slowdown in economic activity in the quarter is likely to have strained fee income. Outflows from the asset-management business might be recorded on market losses. Significant declines in the prices of asset values are expected to have impacted asset-management fees.
Further, lower consumer spending might have hurt card fees due to the pandemic toward the tail end of the quarter. The Zacks Consensus Estimate for consumer services revenues of $387 million indicates a slight decline from the prior-quarter reported number.
In addition, the Federal Reserve's accommodative monetary policy and decline in mortgage rates during the first quarter drove refinancing activities, while growth in new originations had been muted. Apart from this, a rise in demand for residential real estate loans is anticipated to have supported PNC Financial's mortgage banking income. The consensus estimate of $83 million for residential mortgage revenues projects a decline of 4.6% sequentially.
Weak equity markets resulted in a decline in follow-up equity issuances, while IPOs flourished. Thus, equity underwriting fees are expected to have declined. Furthermore, global M&A activity during the March-end quarter was significantly hampered amid the coronavirus outbreak which might have hurt the company's corporate services fees to an extent.
The Zacks Consensus Estimate for non-interest income is projected at $1.9 billion, down 9.5% sequentially. Notably, management expects fee income to be down 3%.
Moderate Decline in Expenses: The bank's continued efforts toward cost savings might have been partially offset by its digital-expansion efforts. Notably, management expects non-interest expenses to be down in mid-single digits on a sequential basis during the period under discussion.
Now, let's have a look at what our quantitative model predicts:
Our proven model shows that PNC Financial does not have the right combination of the two key ingredients — a positive Earnings ESP and Zacks Rank #3 (Hold) or better — to increase the odds of an earnings beat.
You can uncover the best stocks to buy or sell before they're reported with our Earnings ESP Filter.
Earnings ESP: The Earnings ESP for PNC Financial is -5.11%.
Zacks Rank: The company currently carries a Zacks Rank of 4 (Sell), which decreases the predictive power of ESP.
Stocks That Warrant a Look
Here are a few stocks you may want to consider, as according to our model these have the right combination of elements to post an earnings beat this quarter.
BCB Bancorp, Inc. (NJ) (BCBP – Free Report) is expected to release results around Apr 16. The company has an Earnings ESP of +4.17% and currently carries a Zacks Rank of 3. You can see the complete list of today's Zacks #1 Rank (Strong Buy) stocks here.
SB ONE BANCORP (SBBX – Free Report) is likely to release earnings figures around Apr 28. The company, which carries a Zacks Rank of 3 at present, has an Earnings ESP of +1.56%.
The Earnings ESP for Carolina Financial Corporation is +1.43% and the stock carries a Zacks Rank of 3, currently. The company is expected to report quarterly numbers around Apr 22.
The Hottest Tech Mega-Trend of All
Last year, it generated $24 billion in global revenues. By 2020, it's predicted to blast through the roof to $77.6 billion. Famed investor Mark Cuban says it will produce "the world's first trillionaires," but that should still leave plenty of money for regular investors who make the right trades early.
See Zacks' 3 Best Stocks to Play This Trend >>
Source: zacks.com