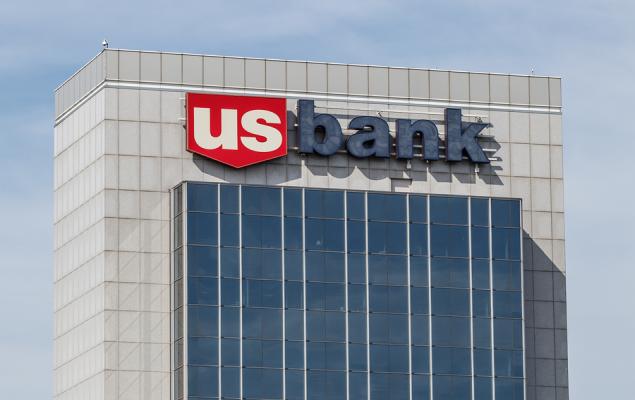 U.S. Bancorp's (USB – Free Report) president and chief executive officer (CEO) Andrew Cecere received 40% hike in his total compensation package for 2019 compared with the prior year. Cecere's total annual pay increased to $18.8 million in 2019 from $13.4 million in 2018, according to the Securities and Exchange Commission filing. Notably, Cecere became CEO effective April 2017.
The increase in his compensation was primarily driven by 11% surge in stock awards to $8.1 million from $7.3 million in 2018. Moreover, other compensation, which jumped to $52,503 from $44,243 in the prior year, contributed to Cecere's rise in pay. Additionally, the base salary increased 9% from the previous year to $1.2 million.
Moreover, increased change in Cecere's pension value and non-qualified deferred compensation earnings, which came in at $6.7 million compared with $2.4 million in 2018 was also favorable. Yet, non-equity incentive plan compensation remained unchanged at $2.7 million.
Among other banking giants, Bank of America Corp.'s (BAC – Free Report) chairman as well as CEO — Brian T. Moynihan's — total compensation for 2019 remained flat with the prior-year level. Other Wall Street biggies that have announced compensations for CEOs include JPMorgan (JPM – Free Report) , with a hike of 1.6%, while Morgan Stanley (MS – Free Report) has announced a reduction of 7%.
Cecere was promoted as the chief operating officer of U.S. Bancorp in January 2015. After a year, he was made the president. In April 2017, he became the CEO, succeeding Richard Davis.
U.S. Bancorp's prospects are likely to be sustained by its solid business model, core franchise and diverse revenue streams. Further, its organic growth remains solid. U.S. Bancorp also remains well poised to grow via acquisitions. Furthermore, the approval of its 2019 Capital Plan, which included share buyback up to $3 billion and increase in quarterly dividend by 13.5%, reflects the company's commitment toward enhancing shareholders' value.
Though investors' concerns prevailed on certain macroeconomic factors, U.S. Bancorp's steadily deployed capital and performance in 2019 raised optimism. Notably, the company recorded 4% rise in total deposits to $346.8 billion, and reported record net revenues of $23 billion, up 2.5% in 2019.
Therefore, the company's share price appreciated roughly 29.7% in the year, following a 14.7% fall in 2018.
Notably, U.S. Bancorp has improved on capital return to shareholders since the financial crisis, investment in core businesses and passed regulatory tests. Cecere has also been adept in strategically evaluating various facets of the bank's major businesses.
We believe Cecere's pay hike will prove to be a major morale booster. U.S. Bancorp's fundamentals remain highly promising with a diverse business model and strong balance sheet.
U.S. Bancorp currently carries a Zacks Rank #3 (Hold). You can see the complete list of today's Zacks #1 Rank (Strong Buy) stocks here.
The Hottest Tech Mega-Trend of All
Last year, it generated $24 billion in global revenues. By 2020, it's predicted to blast through the roof to $77.6 billion. Famed investor Mark Cuban says it will produce "the world's first trillionaires," but that should still leave plenty of money for regular investors who make the right trades early.
See Zacks' 3 Best Stocks to Play This Trend >>
Source: zacks.com