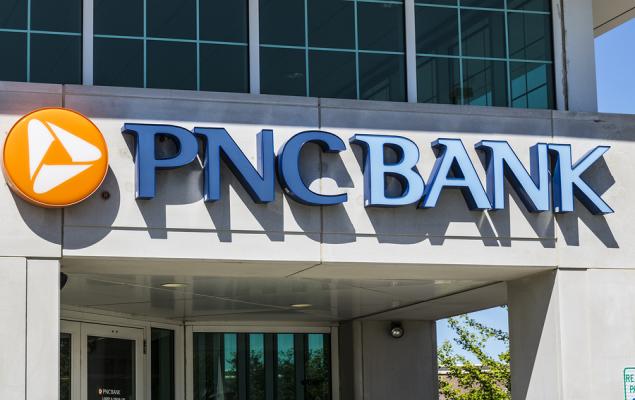 The PNC Financial Services Group (PNC – Free Report) is scheduled to report fourth-quarter and full-year 2019 results on Jan 15, before the opening bell. The bank's revenues and earnings are likely to have witnessed year-over-year growth.
In the last reported quarter, the company's earnings surpassed the Zacks Consensus Estimate. Rise in revenues, driven by higher net interest income and escalating fee income, aided the results. However, higher costs and provisions were headwinds.
Notably, PNC Financial's earnings surprise history is impressive. It surpassed the consensus estimate in three of the trailing four quarters, with the average positive surprise being 1.7%.
The PNC Financial Services Group, Inc Price and EPS Surprise
Nonetheless, activities of the company in the to-be-reported quarter were inadequate to win analysts' confidence. As a result, its Zacks Consensus Estimate for earnings of $2.92 has remained stable over the past 30 days. Nevertheless, the figure indicates 6.2% growth from the year-ago reported figure.
Now let's discuss the factors that are likely to have impacted the company's fourth-quarter results:
Soft Net Interest Income (NII) Growth: The lending scenario during the fourth quarter, particularly in Commercial and Industrial (accounting for roughly 68% of total loan portfolio), was disappointing. Hence, interest income growth is likely to have remained muted.
Also, lower interest rate scenario might have impacted its margins. However, the Zacks Consensus Estimate for average interest earning assets of $354.9 billion for the quarter indicates a 5.9% year-over-year improvement.
The consensus estimate of $2.48 billion for NII suggests slight year-over-year growth. Notably, management expects average loans to rise 1% on a sequential basis in the fourth quarter. In 2019, average loans are anticipated to grow 5% from a year ago.
Higher Non-Interest Income: Pickup in refinancing activities on the back of lower mortgage rates during the quarter is likely to have supported PNC Financial's fee income. Thus, the consensus estimate of $100 million for residential mortgage revenues projects a rise of 70% year over year.
Given decent demand for credit and debit cards, PNC Financial's consumer services revenues might have recorded an improvement. The Zacks Consensus Estimate for consumer services revenues of $410 million indicates 5.9% growth from the year-ago reported number.
Also, solid equity market performance and the central banks' accommodative stance drove corporates to issue equities across the globe. Thus, equity underwriting fees might have risen. However, decline in global M&A deal value due to concerns of global economic slowdown and uncertainty related to the U.S.-China trade war might have hurt the company's corporate services fees to an extent.
The consensus estimate for non-interest income is $2 billion, indicating 7.5% year-over-year rise.
Moderate Rise in Expenses: The company's continued efforts toward cost savings might have been partially offset by digital expansion efforts. Notably, management expects non-interest expenses to rise 1% on a sequential basis in the quarter. Full-year expenses are predicted to rise at a low-single digit rate.
Now, let's have a look at what our quantitative model predicts:
The chances of PNC Financial beating the Zacks Consensus Estimate in the fourth quarter are high. This is because it has the right combination of the two key ingredients — a positive Earnings ESP and Zacks Rank #3 (Hold) or higher — for increasing the odds of an earnings beat.
You can uncover the best stocks to buy or sell before they're reported with our Earnings ESP Filter.
Earnings ESP: Earnings ESP for PNC Financial is +0.36%.
Zacks Rank: It currently has a Zacks Rank #2 (Buy).
Other Stocks to Consider
Here are some other stocks you may want to consider, as our model shows that these too have the right combination of elements to post an earnings beat this time around.
The Goldman Sachs Group, Inc. (GS – Free Report) is slated to release quarterly results on Jan 15. The company has an Earnings ESP of +1.34% and currently carries a Zacks Rank of 3. You can see the complete list of today's Zacks #1 Rank (Strong Buy) stocks here.
Bank of America Corporation (BAC – Free Report) is scheduled to report quarterly earnings on Jan 15. The company, which carries a Zacks Rank of 2 at present, has an Earnings ESP of +0.13%.
Earnings ESP for Northern Trust Corporation (NTRS – Free Report) is +0.45% and it currently carries a Zacks Rank of 3. The company is set to report quarterly numbers on Jan 22.
Looking for Stocks with Skyrocketing Upside?
Zacks has just released a Special Report on the booming investment opportunities of legal marijuana.
Ignited by new referendums and legislation, this industry is expected to blast from an already robust $6.7 billion to $20.2 billion in 2021. Early investors stand to make a killing, but you have to be ready to act and know just where to look.
See the pot trades we're targeting>>
Source: zacks.com