Responding to the three main criteria of international corporate sustainable development — environmental, social and corporate governance (ESG) — Citibank Taiwan Ltd (台灣花旗) is working hard to cultivate the nation's domestic green energy industry.
As part of its efforts, Citibank Taiwan has once again teamed up with Sunnyfounder to promote the "Green E2" project.
The project helped the St Camillus Center for Intellectual Disability in Yilan County build a solar energy system, which began operations yesterday.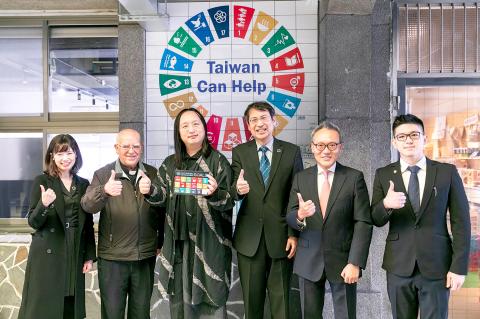 Photo courtesy of Citibank Taiwan
As part of its efforts to help implement the UN's Sustainable Development Goals, Citibank Taiwan has formed alliances with businesses, employees, non-governmental organizations, community groups, local government and even one of its corporate clients, TCI Co (大江生醫), to take green energy public service projects to the next level.
"Citigroup's overall mission is to use responsible finance to promote growth and economic progress. To tackle the threat posed by climate change, guided by the UN's 17 sustainable development goals, Citibank aims to coordinate with clients, communities, and non-governmental organizations to use the Internet to harness the positive impact of finance and make Earth a more sustainable planet," Citibank Taiwan chairman Paulus Mok (莫兆鴻) said.
"Since 2017, Citibank Taiwan has been helping non-governmental organizations develop their own sustainable solar power energy generation solutions. Through the Green E2 project, Citibank has not only promoted public welfare and green energy and helped NGOs expand the impact of green energy, we have also been very happy to learn our goals are shared by our clients," Mok said.
"TCI last year agreed to purchase renewable energy certificates from the St Camillus Long-term Care Center as part of a project sponsored by Citibank Taiwan. It was a symbolic deepening of ties between Citibank Taiwan and its client, and a concrete realization of the UN's Sustainable Development Goals criteria of "goal promotion and partner relationships," he added.
In 2018, Citibank Taiwan entered into a partnership with the St Camillus Long-term Care Center, which is also in Yilan County, to build a solar energy system, thereby pioneering renewable energy certification in Taiwan.
Last year, Citibank Taiwan and TCI joined forces to promote the Green E2 project and to provide assistance to the St Camillus Center for Intellectual Disability.
Within the green energy public service project Citibank Taiwan worked together with Sunnyfounder to invite employees and the wider public to join the Yilan County Government in a fundraising activity to help the center build a 23.87 kilowatt-peak (kWp) solar energy system.
The system would enable the center to produce renewable energy for its own consumption, reduce the cost of its electricity bills and allow it to sell excess supply through Taiwan's domestic energy certificate exchange platform, thereby expanding the benefits it can derive from its green energy generation.
TCI also pledged to purchase Taiwan Renewable Energy Certificates (T-Rec) for green energy produced by the center, providing it with a stable additional revenue stream.
Following an appeal from Citibank Taiwan, a diverse group of green energy public service partners have joined forces to provide assistance to the center, which will allow it to produce a "green profit" of more than NT$1.9 million (US$ 63,150) over the next two decades.
Sunnyfounder cofounder Chen Hui-ping (陳惠萍) says the Sunnyfounder project is not just the largest civil electricity-generating platform in Taiwan, but by this September it will also be granted the nation's first license to sell green energy.
This will help achieve the goal of broadening public participation and sharing of green energy.
Responding to a proposed amendment to the Electricity Act (電業法) to introduce a public service category of innovative green energy certificates, Sunnyfounder last year helped a number of domestic public welfare organizations to produce green energy for their own consumption.
It has proposed going one step further by matching these organizations with domestic companies that have environmental obligations to fulfill, so that they can obtain green energy certificates with a higher degree of social value, while providing disadvantaged social welfare organizations with a continuous resource.
Chao Fu-hung (巢富閎), chief secretary of TCI's Sustainability Promotion Committee, said that, as the first company in Taiwan to advocate the use of 100 percent domestic renewable energy, TCI supports Citibank Taiwan and Sunnyfounder's initiative to introduce public service-type green energy certificates.
TCI also hopes that purchasing green energy certificates from social welfare organizations will help stimulate Taiwan's domestic renewable energy certification trading activity and demonstrate the social value of the green energy trading scheme, Chao said.
Father Giuseppe Didone of the St Camillus Center for Intellectual Disability, said the center looks after 134 students, of whom 80 percent have serious or extremely serious learning disabilities.
In addition to the huge cost of providing a range of daily necessities for patients, the center also consumes a large amount of electricity needed to power equipment, which provides essential assistance to the daily lives of the patients, such as electric wheelchairs and electrically operated beds.
The electricity load of these essential devices is increasing constantly, which poses a huge challenge for maintaining a high standard of care and support to patients, Didone said.
The Green E2 project not only helps reduce the burden on the center's electricity consumption, it also provides it with a valuable additional supply of income and provides a secure foundation for the future sustainable operation of the center, he said.
The 22.2 kWp solar power plant installed on the roof of the St Camillus Long-term Care Center in 2018 has been generating electricity for 16 months, while the rooftop solar power plant at St Camillus Center for Intellectual Disability was completed at the end of last year.
It is estimated that over a period of two decades the two solar power plants will generate a total of about 764,000 kilowatt-hours of electricity, and the overall economic benefit of the green energy produced will be as high as NT$3.64 million, while reducing carbon emissions by about 403,000kg — equal to the carbon sequestered by planting 1,842 trees.
Comments will be moderated. Keep comments relevant to the article. Remarks containing abusive and obscene language, personal attacks of any kind or promotion will be removed and the user banned. Final decision will be at the discretion of the Taipei Times.
Source: taipeitimes.com