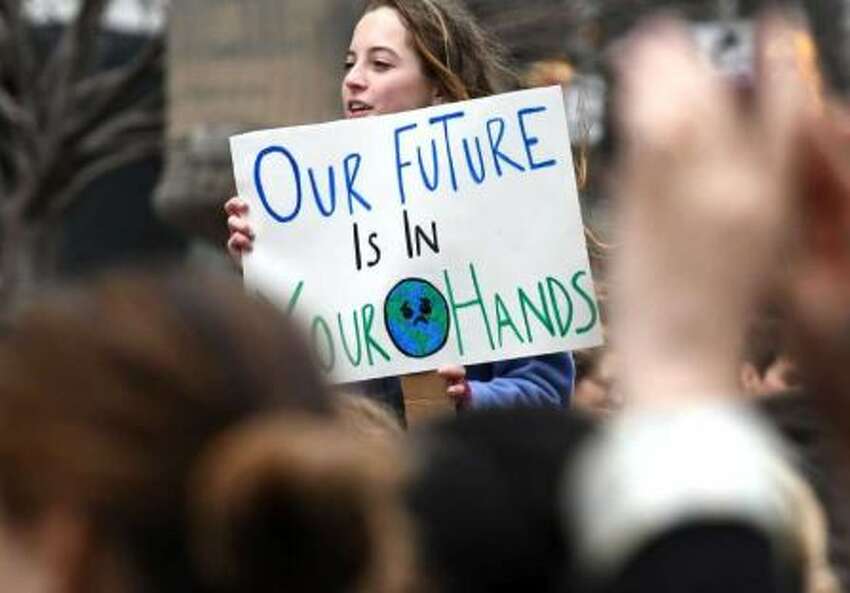 ALBANY — Adult and student activists are gearing up for Friday's Global Climate Strike and March to underscore what they say are the threats posed by climate change and a government response that is coming too slowly for their liking.
The student event is a follow up to a similar strike and rally in March in which high school and college students worldwide, including the Capital Region, left school for a day to rally for climate change solutions. Students since then have been spurred on by the arrival in the U.S. of Swedish teenager Greta Thunberg, who made headlines in 2018 when she took time off school for regular protests in front of the Swedish parliament, calling for stronger action.
She inspired similar actions by youngsters worldwide who are urging a faster switch to alternative energy and other moves to reduce carbon emissions. Thunberg sailed to the U.S. in August on a specially designed yacht equipped with solar panels and water turbines. She said she didn't want to fly due to the heavy carbon emissions generated by aircraft. Thunberg is scheduled to speak at a climate summit at the United Nations next Monday.
Students from across the Capital Region will rally at 1 p.m. Friday in West Capitol Park and speak of their ideas and what they say are their demands to help ease climate change.
They'll be joined by activists from PAUSE, or People of Albany United for Safe Energy, who plan to start a march from the steam plant at 79 Sheridan Ave. to the Capitol at 11 a.m.
PAUSE has in the past protested the large oil tanker trains that were coming to the Port of Albany and the group is pushing for alternative energy including geothermal wells and solar power in a plan to re-do the Capitol complex's heating and cooling system.
"We're doing the traditional march," said Mark Dunlea, who is involved in PAUSE. On their way from Sheridan Avenue, though, members plan to stop in front of Comptroller Tom DiNapoli's office where they will call for the state pension system to divest from oil stocks. They'll also go to TD Bank, which is investing in the controversial Dakota Access pipeline being built in Western and Midwestern states, the Department of Environmental Conservation, and the state Public Service Commission, which regulates and approves new power plants.
The students, PAUSE and a slew of other environmental groups have an ambitious and wide-ranging list of changes they want including a ban on all new fossil fuel projects; a halt to state subsidies for fossil fuels; more funding for renewable energy and a conversion of conversion of public buildings and vehicles to zero greenhouse gas emissions by 2023.
rkarlin@timesunion.com • 518-454-5758 • @RickKarlinTU
Source: timesunion.com